The Pontiac is a place where collaborative opportunities abound for nonprofit organizations, says LaToya Morgan, consultant with the Pontiac Funders Collaborative (PFC). Having identified city-wide goals by engaging with community members from its founding in 2018 through 2020, FPC provides funding to local organizations and leaders to build capacity to achieve these goals. It supports organizations of any size that are led by or serve people from underrepresented groups, low-income backgrounds, and people without access to basic resources.
To strengthen nonprofit partnerships that meet community needs, PFC in 2021 created a Collaborative Development Grant – its only competitive grant – to fund collaborative projects. E-Community Outreach Services and success center (CFS), two Pontiac non-profit organizations focused on serving youth and families, have been selected to receive $15,000 to fund their one-year parenting and literacy program. The most recent eight-week cohort ended with a festive family home evening at the Center for Success, which included the presentation of certificates to parents as well as reading and literacy games. Both nonprofits look forward to continuing to work together in the future.
"It's a learning opportunity for organizations when they collaborate…an opportunity not only to learn from each other, but also to learn more about the work [the other is] do and the work that needs to be done," says Morgan. "It gives them the opportunity to test new experiences or new ideas…and provides the support they need to learn how to do the work needed in the community."
E-Community Outreach Services offers parents the experiential wisdom of its founder and CEO, Eisha Branner. As a woman of color, Branner faced personal, financial, and inherent social equity constraints while parenting under difficult socioeconomic conditions. His non-profit organization provides programs and mentorship to youth and uses a case management approach to connect Pontiac parents to community resources such as workforce training, employment opportunities, emergency food and shelter.
When COVID-19 hit, the organization moved its programming to a virtual format and found great success. Since 2020, its weekly, virtual social hour for parents attracts 35-40 families each session. In 2021, Branner opened the Parent Empowerment Center to increase support for those raising families, offering a variety of educational workshops onsite and through community partners like the Center for Success.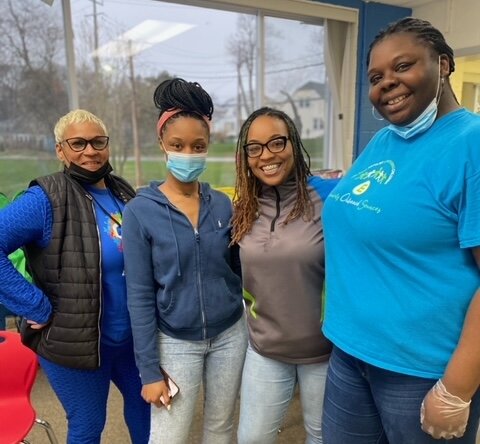 Parents celebrate the culmination of the Parent and Literacy program at the Center for Success. Left to right: Romona Greenlee and Brooke Myers pose with Eisha Branner and Parent Program Coordinator Kendra Pitts
"Because we were two different organizations, Andrea [Meyer, from CFS] focused on youth literacy and I focused on engaging parents and connecting them to resources," says Branner. "We got to know each other and see where our challenges were. I remember her saying, "We interact with the children, but we don't interact with their parents. And I'm like, 'We have a lot of families, but we don't have the space or the funding.' So the first thing she did was offer a space.
Serving both Pontiac and Detroit, CFS's literacy program focuses on mentoring elementary and middle school students during extracurricular sessions that include transportation from partner schools, a nourishing meal, enrichment activities, and individual literacy coaching. The Center also offers virtual and summer literacy programs. In addition to capacity-building collaborations with online community outreach services, CFS partners with a dozen other community-based nonprofits to provide strong programming for young people.
"Eisha and her team are incredibly dedicated," says Meyer, Executive Director of CFS. "We worked hard on this program to not only ensure our families received the support they needed, but also to think very carefully about how our two organizations can enhance their own mission and support each other through this partnership."
Meyer and Branner created a plan for their parent engagement program through ongoing informal weekly conversations, even before funding became available. The program, led by Branner, included topics such as balancing life and children, literary resources, how to advocate for your child, positive behavior and goal setting. Parents of children enrolled in CFS literacy programs can participate, and at the same time, those who get involved through online community outreach are encouraged to enroll their children in the Center for Success.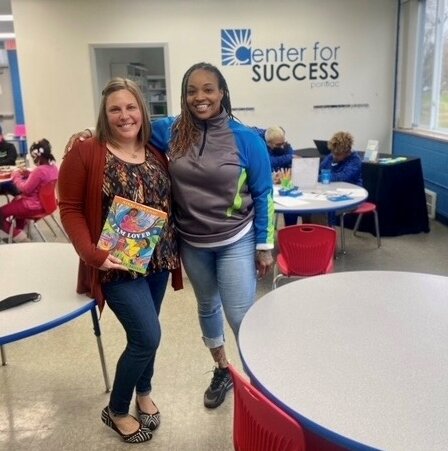 Andrea Meyer and Eisha Branner
"These two ladies were already working on their collaboration before seeking funding. That's what added value to their efforts," says Morgan. "That's also probably why they're having some success. When the grant came out, they said, "Oh, here's a funding opportunity," [and] were happy that it could add value to their work at a time when it was useful.
Some organizations come together for funding," she says. "These collaborations struggle because you don't know who, what, why, or how if you're coming together strictly to share a larger amount of money.
The Center for Success Network serves students in Detroit and Pontiac, where schools report a high percentage of students unable to read at grade level — literacy is recognized as the foundation for success in other subjects. By collaborating in the creation of the Parent and Literacy program, CFS is expanding its mentoring programs into the home, giving families more opportunities to hone their reading skills.
"If what we do with young people is reinforced and supported at home, it will always have a greater impact," says Meyer. "Parents know there is a need and want their children to be supported in their literacy goals, but they don't always know how they can play a role. When they begin to learn some of the strategies and network with the other parents and families involved, it gives them greater awareness of ways to create that culture of learning and literacy at home.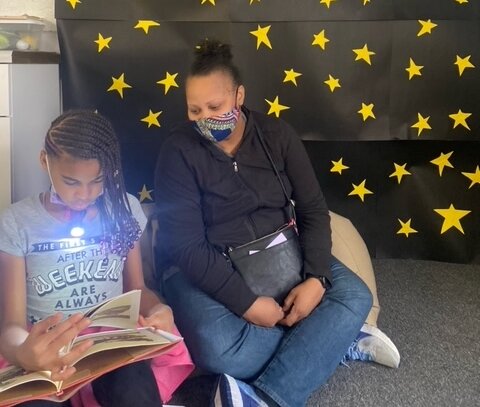 Parent and child read together at the Parent and Literacy celebration
The Parent and Literacy cohorts began last fall and met at CFS on Monday evenings for eight consecutive weeks. On Saturdays, parents could choose to participate in workshops led by community experts on housing stability, financial literacy, mental health and education. A brief fitness activity helped keep participants engaged.
"Overall, the parents felt like they had acquired the knowledge to help their children," says Branner.
"In our community, we have a lot of great programs. We have a lot of great resources. But we also have a disconnect, especially in recent years with COVID-19," she says. "There wasn't enough support for our families. A lot of their kids fell back to school. If you look at our schools, you see a lot of low scores and very little parental involvement."
Yet in the past school year, the average attendance of students in CFS literacy programs with caregivers enrolled in online community outreach programs was 12% higher than that of students whose families were not. not involved in both programs, she said.
"We're going to be that group that reaches out to these families, engages with them, and connects them to the services and support they need," she says.
While working toward this goal, Branner and Meyer are also part of a larger nonprofit cohort, comprised of all organizations receiving PFC capacity building grants. The dozen grantees meet monthly and encompass a wide range of community services, from health care and family counseling to after-school music programs. Cohort members provide each other with lived experience and broader community connections.
"People are able to build relationships across different communities that they may not be connected to, and they can build on those relationships outside of the group," Morgan says. "People really enjoy learning about what others are doing and having the ability to connect in different ways or provide opportunities to serve different constituencies."
Meyer says she hopes that by continuing to involve parents and children in literacy activities, more parents will turn to online community outreach to access community resources — and in turn, even more of children will participate, and in a more coherent way, in the literacy of the CFS. Activities.
"It's great for students and parents to learn together," she says, as it instills "a lifelong learning mentality. I'm really excited about how we'll continue to work together.
This entry is part of our Non-profit journal project, an initiative inviting nonprofit leaders in Metro Detroit to share their thoughts via journal entries on how COVID-19, increased awareness of racial injustice and inequality, issues of change climate and more affect their work – and how they respond. This series is made possible through the generous support of our partners, the Michigan Nonprofit Association and Co.act Detroit.