Construction of a "smart care" hospital for the elderly, the first medical center to offer such services, has started at Tainan National Cheng Kung University (NCKU).
The building, which is expected to have 12 floors with five additional levels underground, was designed by Bio-Architecture Formosana founder Chang Ching-hua (張清華) and is due for completion by 2025.
In addition to being the first medical facility to offer smart care services for the elderly, the building will also boast of being Taiwan's first green building for medical use.
Photo courtesy of National Cheng Kung University
The interior design of the building seeks to mimic the alley and winding paths of the city of Tainan, and the individual rooms, such as solariums or other rooms, should mimic the traditional Minnan-style buildings of the city.
GREEN DIAGRAM
Chang and his architectural firm are well known for constructing "green buildings", including the Beitou Library, and for designing the Green Energy Science Park in Shalun.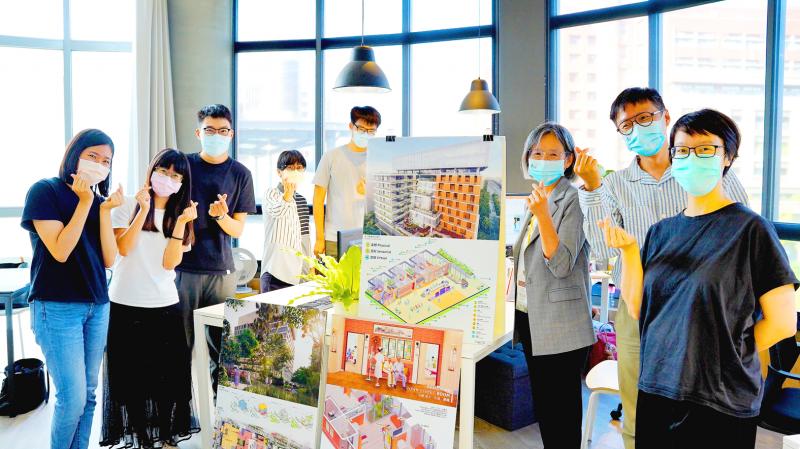 Photo courtesy of National Cheng Kung University
Both buildings share great fame as "green buildings" and are also favorite photographic landmarks for tourists and visitors.
The design and colors of the hospital are meant to help visitors forget that the facility is a hospital and feel like they are part of the local community, Chang said.
Maintaining a bright and bright environment filled with greenery can serve to lighten the mood of patients and facilitate their recovery, she said.
The hospital is under construction at the intersection of Dongfong and Linsen roads, near a park in Tainan famous for its "golden shower" trees. Directly across from the area is Siaodong Park.
Each floor will ensure that all levels have sufficient sun and gardens for patients, Chang said, adding that this would also provide patients with fantastic views of the surrounding area.
The hospital also designed spaces around the nursing stations for patients to socialize and interact with each other to relieve the pressure, she said.
NCKU President Su Huey-jen (蘇 慧真) said the hospital hopes to collaborate with the university's schools and colleges and work with Tainan Science Park to provide better quality care for the elderly. .
The hospital also hopes to facilitate the integration of smart medicine in the region and contribute to the "Great South" government initiative, as well as become a model center for the development of smart medicine.
MAKE USERS HAPPY
Born and raised in Tainan, Chang said she was intimately aware of how Tainan's unique culture fostered her creativity.
"University taught me how to express my ideas on paper, take care of clients, and incorporate nature into my design," Chang said.
When she sees the expressions of happiness, astonishment or honor to live or spend time in her buildings, she feels motivated and encouraged in her work, Chang said.
Having designed several famous buildings to date, Chang said that every assignment is a new experience, as some jobs are those an architect can only have once in a lifetime, citing the High Court and Taichung Arena. as two examples.
These buildings take years, if not decades, to complete, she added.
When asked what job she had completed that she was most satisfied with, Chang replied, "It will always be next."
The NCKU will launch its 90th anniversary celebrations starting this month.
More information can be found on the university's website, which can be accessed at: https://90th.ncku.edu.tw/.
Comments will be moderated. Keep comments relevant to the article. Comments containing abusive and obscene language, personal attacks of any kind or promotion will be removed and the user banned. The final decision will be at the discretion of the Taipei Times.
Source link